Shoppers Online: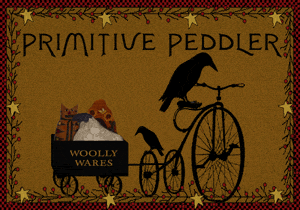 Penny

Rug History
Our penny rugs are all handstitched one at a time. The prices range as follows: Candle mats $50.00 each, mats that are 13" by 17" in size are approx $60.00, mats that are 18" by 26" are $90.00 each and the runners that are approx 16" by 36" range from $100.00 to 160.00. In the 1800s, women would use scraps of wool or wool felt from old clothing and hats to create designs for mats or rugs. They would make circles using coins as a template. Each piece was then stitched in blanket stitch fashion. Sometimes, the mats or rugs were backed with old burlap bags or feed sacks. And to make the piece lie flat, a penny was stitched under one of the circles to weigh it down. Coins were so valuable then, that in today's world, if you are fortunate to find an antique piece containing one, you would have a very rare piece. Ninteenth century women were very creative and not wasteful. Thinking back to my own amazing grandmother, she was able to work her nimble fingers to the fullest whether in the kitchen or in the sewing room. How blessed I feel to have inherited her talents!

Caring for your wool penny rug!
We suggest that you use a home dry cleaning kit or take your woolen piece to the dry cleaners for proper maintenance. Test the dry cleaning kit on the back where it would not be noticable. When packing away for a season, use the same care you would if you were packing away a wool skirt, pants, or jacket. If you care for your penny rug as if it were an antique treasure, then one day it will be! For as we have all learned, today's treasure are tomorrow's antiques!