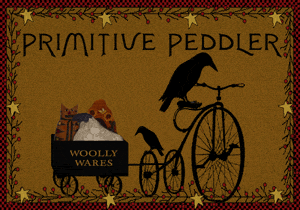 We're a little cottage business with a big heart located in a small shoreline town on the East Coast in Clinton, Connecticut. My name is Annette Bradley, designer and owner. I have been sewing since I was a young girl, creating and hand stitching tiny dresses and coats for my Suzette doll, too many years ago! As time went on, I made my own clothes but my true interest was in home decor.

Our homes are where we surround ourselves with love and memories, warmth and security, hopes and dreams. The dream I have always had was to be able to use my talents to earn a living and bring joy to someone else by offering unique pieces of fabric art at a reasonable price. With the encouragement and help through the years of my family, my extremely patient and supportive husband and very devoted friends, I am now able to reach much farther than the stars. I am so very blessed and proud to be an American where I can have this opportunity. I hope that I will now have the opportunity to enter your home and bring added warmth to it with my unique designs and woolen creations as well as cotton products with an antiqued or grunge look.

Thank you so much for visiting.